Are you looking for gopher removal services in Guthrie, Edmond or surrounding metro area? We specialize in gopher removal in the Edmond, Guthrie, and surrounding metro areas. Our pocket gopher technicians are trained to properly identify gopher damages. After we diagnose your critter problem, we can find a solution that works best for you. Moles and gophers are not the same but they may cause similar damage to a lawn.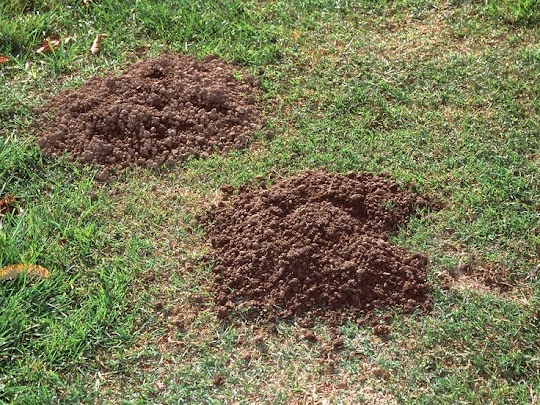 Gophers will leave large mounds of dirt on top of your lawn. As they excavate through the soil looking for food, they leave mounds of dirt. If left alone, gophers can cause a lot of damage to a lawn. These gopher mounds can happen in a very short period of time. Gopher mounds can damage lawn equipment as they mow or drive over them. When lawn mowers run over the gopher mounds it dulls the blades. If you are in the Edmond area, we recommend O'Conner's Lawn and Garden or Circle Saw Shop for repair or blade sharpening. If you are in the Guthrie area, we recommend Hometown Rental on Division Street
Gophers have elaborate underground tunnel systems, but they can be very long or deep runs. These tunnels may collapse under your feet as you walk. This could cause injury to people, pets, or livestock so caution should be used. In many cases, gophers like to eat ornamental plant roots which could cause the plant to die if enough of the root system is eaten.
If you have questions about our gopher control services in the Edmond and surrounding areas or would like to schedule services please click on the link or give us a call or text at 405-464-2121.