Testimonials
Positive:
 Quality,
 Responsiveness
The team at Skunk Bait have done pest removal for our neighborhood common areas for three years. They get on the problems quickly and, most important, do excellent follow up and follow through.
Service:
 Nuisance animals
Positive:
 Professionalism,
 Quality,
 Responsiveness,
 Value
Mike was fantastic!! Just before leaving for vacation I discovered the hard way that a momma skunk was raising her brood under my neighbor's shed accessed through a hole in my fence. She sprayed my exuberant puppy in the face!! I called a few places I found online, but they either didn't call back or were exorbitantly expensive. Mike was responsive, professional, honest, fairly priced, and so easy to work with; he even came back by after the trapping and repaired the hole in my fence! I wouldn't wish a family of skunks on anyone, but if you need help with humanely removing skunks (and other wildlife), Mike's your guy!!
Services:
 Nuisance animals, General wildlife removal
Positive:
 Professionalism,
 Punctuality,
 Quality,
 Responsiveness,
 Value
It all started with the receptionist. Her name is Tonya! She's so nice, so thorough, so professional and showed a genuine concern for our need! She then scheduled a time and date which was kelp precisely by the field tech Mike, which by the is her husband! Mike just elevated the niceness, the thoroughness, the professionalism and the concern(raccoon in attic) we had. He started the process, (The inspection of the outdoor surroundings, the inspection of the attic, the setting of the traps, the monitoring of the traps and then ultimately the capture of the intruders) and seen it through to the very end. He proved to be steps ahead of every move the raccoons made. Which as I mentioned ultimately lead to capture! I would highly recommend Skunk Bait Wildlife Control to anyone in need of this service. They are not only a great service, but Great People also...And They Care!
Service:
 General wildlife removal
Skunk Bait Wildlife Control LLC-Your Oklahoma City Wildlife Removal Experts
Are you looking for Trappers in Okc? We are the best wildlife control company in Oklahoma hands down. We are experts in the field of Okc Animal Control and wildlife removal services.
What We Have To Offer
We are a full service pest control company specializing in wildlife damage management, animal exclusions, pest prevention, home maintenance, repair services, and insulation removals and replacement in Oklahoma.
Pest Control-Wildlife
Skunk Removal Edmond, Ok
One of the highest searched questions for skunk removal is where to find skunk removal near me. This question is asked several times a day in the Edmond, Okc, Guthrie and surrounding areas. The skunk population in Edmond Ok is higher than normal causing an abnormal amount of skunk activity. With little to no pressure from predators, skunks can overpopulate an area rather quickly creating chaos for home owners with pets.
Our company services the Edmond area for all skunk removal Edmond service calls like skunk removal under houses, skunk in yard removal, skunk in house, skunk smell removal, dog got sprayed by a skunk and more.
Skunk Trapping In Edmond, Ok
Skunk trapping in Edmond, Ok can be tricky. There are non-target animals like people's pets and other wildlife in the area to think about, A non-target animal is any animal other than the animal you are trapping for. If you need to know how to remove a skunk from a trap in Edmond, we recommend you call a professional. Skunks are the highest carrier in Oklahoma for rabies. Trapping a skunk in an open wire cage trap may be a problem. In most cases, the skunk has plenty of room to move around to be able to spray you.
Traps To Use For Skunks
Covered Traps
We typically use covered traps to minimize the risk of getting sprayed by a skunk. We get asked all the time how do you get a skunk out of the trap without it spraying? The honest answer to that question is you have a 50/50 shot just like we do (we just have a little more experience than most people on how to read them and their body language.
Open Wire Cage Or Box Traps
Skunks are beautiful critters but they are not fun to catch in an open wire cage trap.
Skunk Baits
We use several different baits for skunks depending on the time of year and food sources available. We typically try to avoid using a meat based type of food because it attracts non-target animals as well. If you need a good universal bait, canned cat food does work. Just be prepared to catch all types of critters.
We make our own skunk baits here at Skunk Bait Wildlife Control LLC and it is available to purchase when supplies are available. Just let us know if you would like to purchase some.
Our Location And Licensing Infomation
We are based just north of Oklahoma City, Oklahoma and we are licensed by the Oklahoma Department of Wildlife Conservation to offer animal control services for nuisance wildlife in the state of Oklahoma. We carry workers' comp insurance, liability insurance, and commercial vehicle insurance for your protection.
List Of Wildlife Damage Management Services
Commercial and Residential Mole and Gopher Control Services- We provide non-toxic mole and gopher control services in the Guthrie, Edmond, Okc, Midwest City, and surrounding areas. For more information or to schedule an appointment for services click here

Animal Damage Inspections- We provide 3 levels of inspection when we come to your home. You will receive a ground level inspection, an attic inspection, and a roof inspection so you can rest assured that you are receiving the best possible service for your time and money.

Predator Control Services- Coyote, Fox, Badger, Raccoon, Bobcat, Feral Cat,

Beaver Removal Services

Dead Animal Removal Services (We are not equipped to handle animals larger than deer).

Goose Control and Relocation (We do have the SCGP Permit for egg addling and goose relocation)

Turtle Management

Pigeon Control

Bird Netting

Commercial Wildlife Management Services

Wildlife Prevention, And Exclusion Services

Commercial and Residential Ground Trapping Services- skunk removal, opossum removal, raccoon removal, mole and gopher removal, snake removal, armadillo removal, rodent control, squirrel removal,

Removal Of Trapped Wildlife Animals

Water Trapping Services- Beaver, muskrat, turtles, nutria, snakes

Sick And Injured Animal Removal Services
Wildlife Prevention, Products, Sales And Installation Services
Pest Proofing
Exclusion Products
Preventative Maintenance
Soffit Repair
Soffit Vent Replacement
Roof Vent Guard Sales, Service, and Installation
Dig Proof Barriers
Pest Inspections
Insulation Removal
Attic Remediation
Air Gap Sealing
Spray Foam
Add Insulation
Blown In Insulation
Fiberglass Insulation
Cellulose Insulation
Rockwool Insulation
R Value Assessments
Exterior Wall Insulation
Insulation Inspections
We DO NOT OFFER ASBESTOS INSULATION REMOVAL
Attic Clean Outs
Raccoon Feces Removal And Sanitation
Debris Removal
Biohazard Removal Services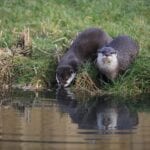 We offer annual water trapping services to home owner associations, city government agencies, state agencies, airports and farms in the state of Oklahoma.
Beaver
Beaver Dam Removal
Muskrat
Otter
Nutria
Turtles
Snakes
Beavers are amazing creatures! Beavers are the largest rodent in North America. Growing up to over 80 lbs. They can build complete ecosystems by just their teeth, feet and tails. By damming up water ways like creeks or streams, they can raise the water column creating a pond or a marsh which is a welcome habitat for so many other wildlife species. This damming can cause flooding to roadways, they chew down trees (sometimes very expensive trees) to build their homes which is a nuisance to many people that own the trees they chew down. For more information on our beaver trapping services please call us at 405-464-2121 or click here to schedule an appointment.
Beaver Dam Removal Services
Animal Control Services In Oklahoma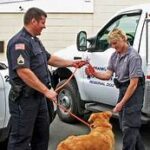 We offer paid animal control services and assistance to government agencies or pest control companies. We DO NOT offer free animal control services and we are not affiliated with any government agency or county animal control agency.
We are a private nuisance wildlife control company that offers animal control and professional wildlife services to residents of the state of Oklahoma.
We often get calls for emergency animal removal, or ground trapping services for armadillos, skunks or raccoons. We also offer water trapping services, non-toxic mole and gopher control, animal damage inspections. We specialize in wildlife damage management which includes prevention, attic remediation, insulation removal and replacement, wildlife proofing, and home repair services for damages caused by nuisance wildlife.
Mole And Gopher Removal Services
Gophers
Pocket Gophers are small, brown, subterranean rodent creatures approximately 6-8 inches long as adults, and 4-6 inches long for juveniles. These under ground critters like to eat the root systems of several different types of grasses that we like to plant in our yards like bermuda, fescue, zosia, and other types of grasses. They will also eat ornamental plant roots, and even young tree roots.
In some cases, as these animals feed on the root system of the grasses or shrubs, it will kill the plant or discolor the lawn.
These pesky critters have even had movies made such as Caddyshack because of their destruction. They can cause a yard to look like a mine field in just a few days. Pocket gopher tunnels can be as deep as 12-18"  deep or as shallow as 1-2 inches deep depending on if it is a feeder tunnel or a main travel tunnel.
Gopher Damage To Lawn And Lawn Equipment
As gophers excavate their tunnels looking for food they leave large mounds of fine dirt on top of the grass. These large mounds of dirt can cause damages to lawn equipment, as well as create a tripping hazard. Shallow tunnel systems may even cause injuries to animals and people. Horse and cattle ranches have large livestock that could injure theirselves as they step in these tunnel systems
We have a mole and gopher removal specialist on staff that has been trained to trap gophers and remove these subterranean animals. Gophers typically will leave large mounds of fine dirt piled up on your lawn. We offer gopher removal services in Guthrie, Edmond, Oklahoma City, and surrounding cities. For more information on our gopher control services please give our office a call at 405-464-2121 or you can schedule an appointment online.
How To Get Rid Of Moles, Voles, and Gophers In Your Yard
The first step to being able to remove moles, voles or gophers from your yard is diagnosing which animal you are dealing with. Moles will usually have raised tunnels in the yard that go all over the place. These feeder tunnels are shallow and are not good locations to set traps in most cases. Voles are small critters similar to the size of a mouse and they ear grain type food like seeds and nuts. Gophers typically will have large mounds of fine dirt and they will stuff food in the pockets in their cheeks so they can store their food in their tunnel systems.
Animal Control Services In Oklahoma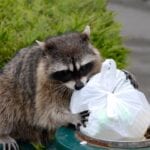 Skunk Bait Wildlife Control offers animal control assistance services for city entities, county agencies, townships, and government agencies in the state of Oklahoma. We offer emergency services, contract services, and assistance to all of these agencies.