Oklahoma Wildlife Control Services
Your Oklahoma Wildlife Removal Experts
Are you looking for the best wildlife control company in Oklahoma? We are experts in the field of animal control and  wildlife removal services.
We are a full service pest control company specializing in wildlife damage management, exclusion and prevention services, as well as home maintenance and repair services. We are based just north of Oklahoma City, Oklahoma and we are licensed by the Oklahoma Department of Wildlife Conservation to offer animal control services for nuisance wildlife in the state of Oklahoma.
Wildlife Removal Services 405-464-2121
Our wildlife control technicians are specifically trained to handle any emergency wildlife removal call you can throw at them. Once the problem animal has been removed, we also offer animal damage repair and exclusion services with a warranty that cannot be beat. From a skunk removal inside your home to a raccoon with babies that has made her way into your attic or wall space, we are fully equipped to handle all of your wildlife control needs.
Water Trapping Services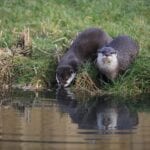 We offer annual water trapping services for home owner associations, government agencies, state agencies and farms in the state of Oklahoma. Water trapping services include trapping and removal of beaver, muskrat, otter, nutria, turtles and snakes. We also offer beaver dam removal services as well.
Animal Control Services In Oklahoma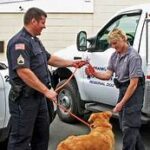 We offer paid animal control services and assistance to government agencies or pest control companies. We DO NOT offer free animal control services and we are not affiliated with any government agency or county animal control agency.
We are a private nuisance wildlife control company that offers animal control and professional wildlife services to residents of the state of Oklahoma.
We often get calls for emergency animal removal, or ground trapping services for armadillos, skunks or raccoons. We also offer water trapping services, non-toxic mole and gopher control, animal damage inspections. We specialize in wildlife damage management which includes prevention, attic remediation, insulation removal and replacement, wildlife proofing, and home repair services for damages caused by nuisance wildlife.
Moles And Gophers
Gophers
Pocket Gophers are small, brown, subterranean rodent creatures approximately 6-8 inches long as adults, and 4-6 inches long for juveniles. These under ground critters like to eat the root systems of several different types of grasses that we like to plant in our yards like bermuda, fescue, zosia, and other types of grasses. They will also eat ornamental plant roots, and even young tree roots.
In some cases, as these animals feed on the root system of the grasses or shrubs, it will kill the plant or discolor the lawn.
These pesky critters have even had movies made such as Caddyshack because of their destruction. They can cause a yard to look like a mine field in just a few days. Pocket gopher tunnels can be as deep as 12-18"  deep or as shallow as 1-2 inches deep depending on if it is a feeder tunnel or a main travel tunnel.
Gopher Damage To Lawn And Lawn Equipment
As gophers excavate their tunnels looking for food they leave large mounds of fine dirt on top of the grass. These large mounds of dirt can cause damages to lawn equipment, as well as create a tripping hazard. Shallow tunnel systems may even cause injuries to animals and people. Horse and cattle ranches have large livestock that could injure theirselves as they step in these tunnel systems
We have a mole and gopher removal specialist on staff that has been trained to trap gophers and remove these subterranean animals. Gophers typically will leave large mounds of fine dirt piled up on your lawn. We offer gopher removal services in Guthrie, Edmond, Oklahoma City, and surrounding cities. For more information on our gopher control services please give our office a call at 405-464-2121 or you can schedule an appointment online.
How To Get Rid Of Moles, Voles, and Gophers In Your Yard
The first step to being able to remove moles or gophers from your yard is diagnosing which animal you are dealing with. Moles will usually have raised tunnels in the yard that go all over the place. These feeder tunnels are shallow and are not good locations to set traps in most cases.
Animal Control Services In Oklahoma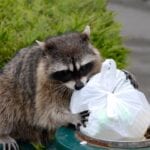 Skunk Bait Wildlife Control offers animal control assistance services for city entities, county agencies, townships, and government agencies in the state of Oklahoma. We offer emergency services, contract services, and assistance to all of these agencies.